The Great Serum Race: Blazing the Iditarod Trail (Hardcover)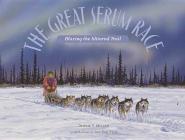 Description
---
Ride shotgun with the heroic mushers whose bravery inspired the Iditarod.
In the winter of 1925, Nome, Alaska, was hit by an unexpected and deadly outbreak of diphtheria. Officials immediately quarantined the town, but the only cure for the community of more than 1,400 people was antitoxin serum and the nearest supply was in Anchorage—hundreds of miles of snowbound wilderness away. The only way to get it to Nome was by dogsled.
Twenty teams braved subzero temperatures and blizzard conditions to run over 600 miles in six days in a desperate relay race that saved the people of Nome. Several of the dogs, including Togo and Balto, became national heroes. Today their efforts, and those of the courageous mushers, are commemorated every March by the Iditarod Trail Sled Dog Race.
Jon Van Zyle's stunning oil paintings capture the brutal conditions, pristine wilderness, and sheer guts and determination demonstrated by the heroic mushers and dogs.
About the Author
---
Debbie S. Miller has written many acclaimed children's books, including Arctic Lights, Arctic Nights. She lives in Fairbanks, Alaska.
Jon Van Zyle is a noted children's book illustrator and the official artist of the Iditarod Sled Dog Race. He has twice participated in the run and was recently inducted into the Iditarod Hall of Fame. Jon lives with his wife, Jona, and their twenty Siberian huskies in Eagle River, Alaska.
Jon Van Zyle has also collaborated with Debbie S. Miller on seven books for children.